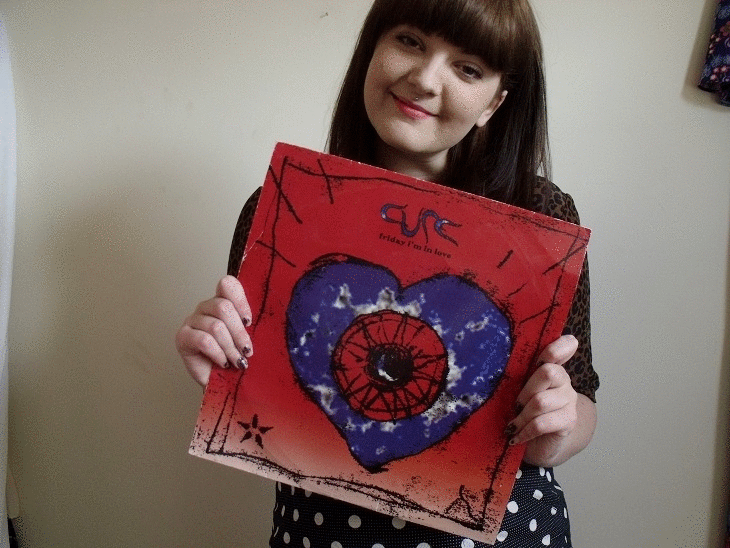 Some of my favourite vinyl: Marc Bolan and T-Rex "Get it On", The Cure "Friday I'm in Love", David Bowie "Lets Dance", The Police "Regatta de Blanc", Joan Armatrading Self titled, & The Cure "Pornography".
I'm not really too sure what it is with my family, but we all seem to be vinyl freaks. My Mum has a big collection from her youth which she doesn't part with even though she kindly donated her vinyl player to me, and my Brother seems to pick them up everywhere he goes, even buying new music in vinyl form. I don't go that far, and really, I don't look for records half as much as I should do. I made the decision some years ago to get rid of all my old cds, and donated them to friends or just chucked them away! I wish I had been aware of the sorts of sites that are around today where you can sell cds, dvds or even
sell your old ipod touch
.
(with the increase in smart phones, who needs them now anyway?!)
My collection is quite large for someone my age (it's my mission to get all the bowie and t-rex records ever made; i'm still working on that), but I don't listen to it anywhere near as much as I should. It's just so convenient whilst doing work online to bang on youtube and have pretty much any song you want available and ready to listen to. But I don't think there's any sound like vinyl, or will there ever be. I need to make more of an effort to sit in my office when I have nothing to do, put on a record and just sit. Sit and listen. At the risk of sounding far too much like Lloyd from Corrie, there really is nothing like it. "Last words: I dig music." (ten points to whomever gets that quote!)
What about you, do you have any records or are you more of a youtube girl?
*This is a sponsored post.